Like the South Holston, the Watauga River produces bountiful brown trout and rainbow trout.
The Watauga River is ole reliable to our guide staff. Located just outside of Johnson City, Tennessee, this is a great fishery in our tailwaters area. It's also a very convenient choice for anglers coming over the mountains from Asheville.This river can be floated on low water and does not need to be planned around the water releases of the Tennessee Valley Authority (TVA). There are several public access points for boat or wading here. This is a major convenience when trying to get out on the Watauga fly fishing for trout.
Again, If you have any questions concerning information on a trip, water release schedules, or any info at all, please contact us . We will be happy to simply talk with you.
About The Watauga River
In the true definition of Wata'gi (beautiful water), much like the South Holston River, The Watauga river is a 20-mile tailwater system that is produced and generated by watershed via the Wilbur Dam. As it makes its way from the Wilbur Dam, through the beautiful country landscape of Carter County, it provides the perfect backdrop for a day of landing big fish! The water temperatures are continuously cold for producing plenty of healthy brown and rainbow trout, which produces great fly fishing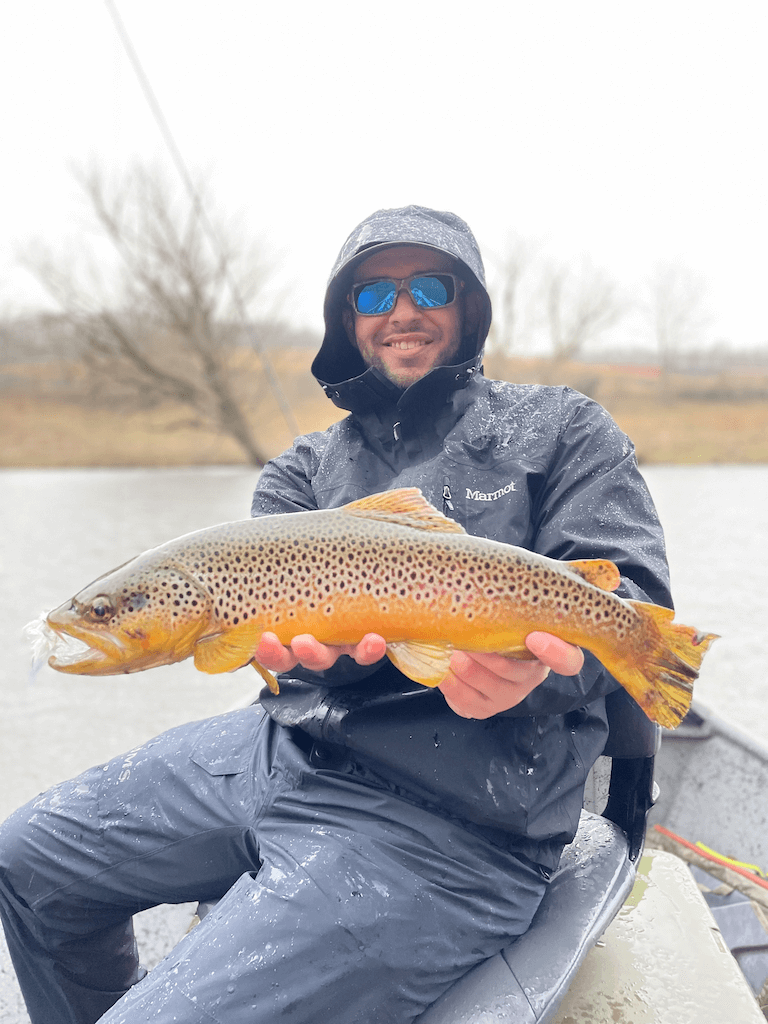 Located in Elizabethton, Tn, the initial process for it's headwaters begins in North Carolina. Watauga County, NC is stapled by Grandfather Mountain. The watershed journey begins there and flows into the Watauga lake which meets Wilbur Dam. It eventually empties into Boone Lake much like the SoHo. The Watauga Lake staples some of the cleanest lake water in the United States and proves in producing some of the most efficient and clean hydroelectricity.
The Watauga provides a sporty atmosphere of rapids, smooth water, with runs and riffles and plenty of nice pools of water. Because of the dual use nature of these waters, whitewater kayaking is a popular pastime here as well. But don't worry, the only rapids you need be careful of when floating is Bee Cliff. These characteristics make the Watauga a great partnered choice to the South Holston. The Watauga is consistent in fly fishing when the South Holston is not generating water for float trips as the Watauga can always be floated on low water.
While there are some areas that are public property, much of the Watauga River's banks are privately owned. Be sure to do your research of the different locations you're planning to fish, especially if you're planning on wading. You'll find a few parking areas along this river that provide people really good public access. More often than not, if you see a bridge crossing the river, you'll find a parking area nearby.
Watauga River Fishing: Hatch Chart
The Watauga river is one very diverse river when it comes to insects and has a large variety of flies you can fish here. However, you can count on several reliable hatches throughout the year. Midges, nymph, caddis flies, blue wing olives and sulphurs are all great choices for anglers going after rainbows and browns here. In the Spring, dries are a great way to have some fun on the top water. Nymphing really is a great choice as far as technique goes as it can be done year round.
Streamer fishing techniques will produce good fish as well, especially in the trophy section stretch. Bouncing scuds off the bottom and stripping wooly buggers are our go to techniques when it comes to streamers. We'll also throw stoneflies on occasion, but buggers and scuds are your best bet. In the winter, white mini dungeons are a lethal choice for this destination. Use this hatch chart to determine your fly selection and we are certain you'll see some good outcomes for your next trip on the Watauga river. As always, make sure you're adjusting your tippet and leader size to account for the size and species you're going after.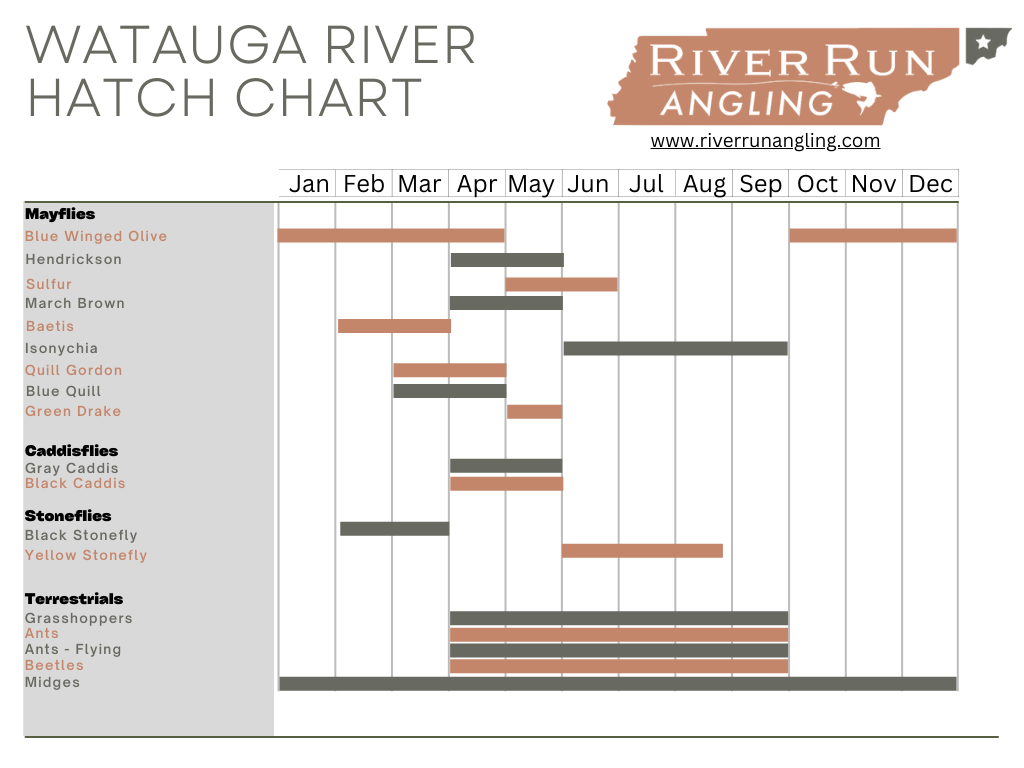 If you follow these hatch patterns throughout the year, we can assure you that you will catch some trout when you're fly fishing the Watauga river. If you're fishing with us, our guides will take care of the fly selection for you! Be sure to book your trip for some exciting Watauga river fishing today!