Like the South Holston, the Watauga River produces bountiful brown and rainbow trout.
The Watauga River is ole reliable to our guides. This river can be floated on low water and does not need to be planned around the Tennessee Valley Authority's Water release schedule. This is a major convenience when trying to get on the Watauga fly fishing for trout.
Again, If you have any questions concerning information on a trip, water release schedules, or any info at all, please
contact us
. We will be happy to simply talk with you.
About The Watauga River
In the true definition of Wata'gi (beautiful water), much like the South Holston River, The Watauga river is a 20-mile tailwater system that is produced and generated by watershed via the Wilbur Dam. The water temperatures are continuously cold for producing healthy brown and rainbow trout, which produces great fly fishing year-round!
Located in Elizabethton, Tn, the initial process for a watershed begins in North Carolina. Watauga County, Nc is stapled by Grandfather Mountain. The watershed journey begins there and flows into the Watauga lake which meets Wilbur Dam. The Watauga Lake staples some of the cleanest lake water in the United States and proves in producing some of the most efficient and clean hydroelectricity.
The Watauga provides a sporty atmosphere of rapids, smooth water, with runs and riffles. These characteristics make the Watauga a great partnered choice to the South Holston. The Watauga is consistent in fly fishing when the South Holston is not generating water for float trips as the Watauga can always be floated on low water.
Watauga River Fishing: Hatch Chart
The Watauga river is a very diverse river when it comes to insects, however you can count on several reliable hatches throughout the year. Use this hatch chart to determine your fly selection and we are certain you'll see some good outcomes for your next trip on the Watauga river.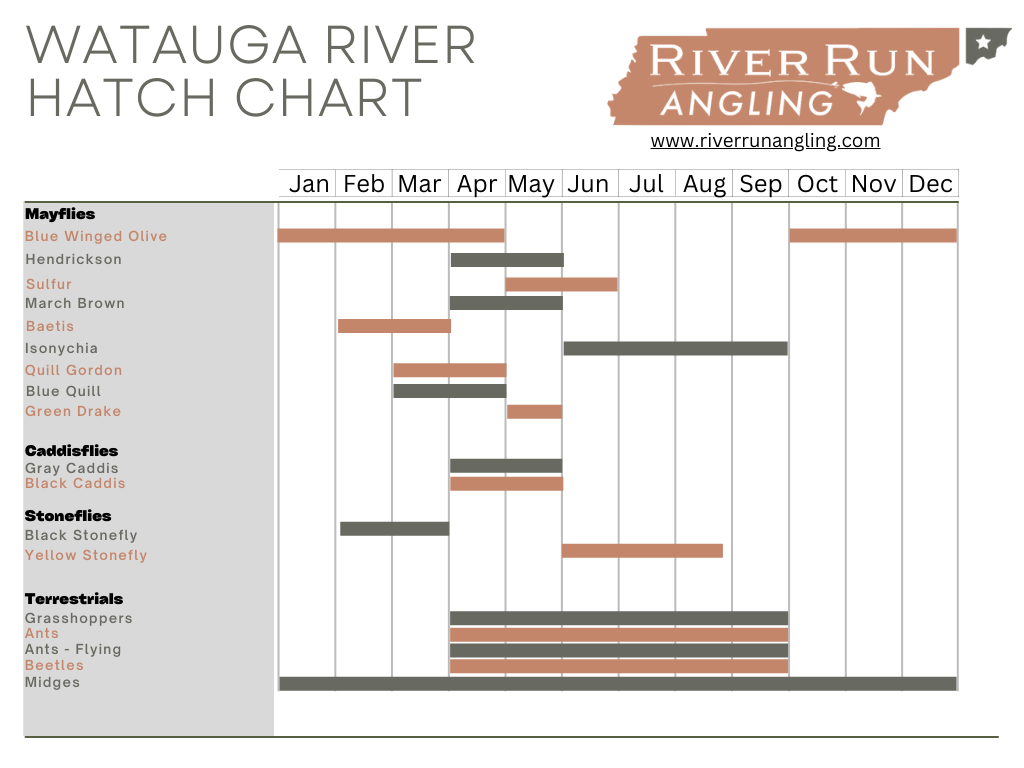 If you follow these hatch patterns throughout the year, we can assure you that you will catch some trout when you're fly fishing the Watauga river. If you're fishing with us, our guides will take care of the fly selection for you! Be sure to book your trip for some exciting Watauga river fishing today!