Fly Fishing in Bristol, TN: An Anglers Guide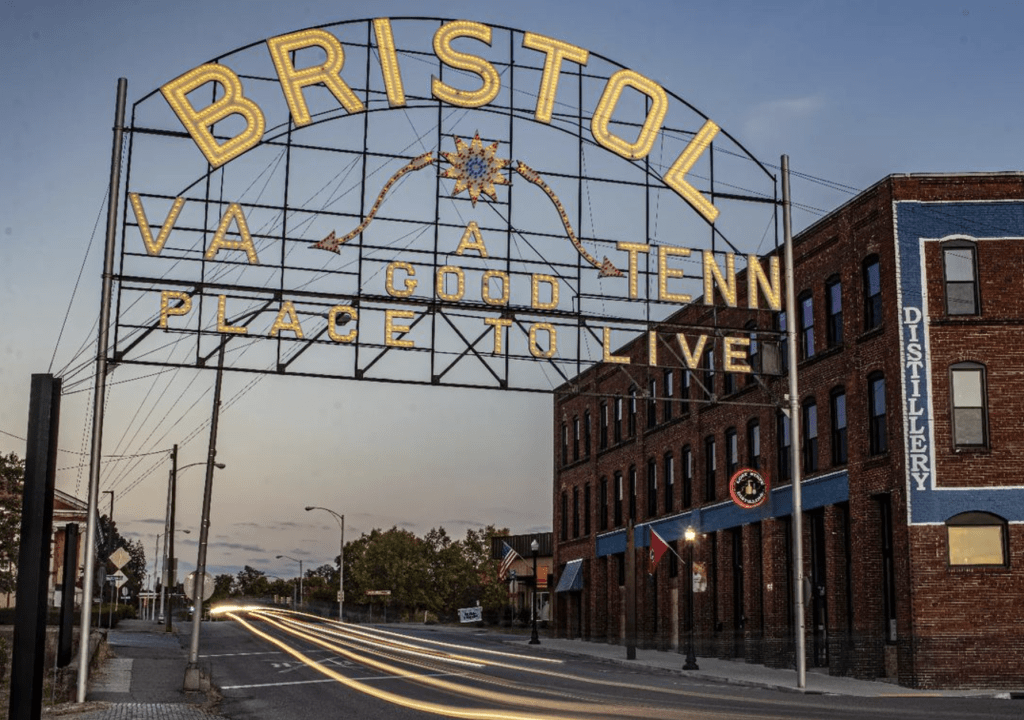 What Makes Bristol, TN Great For Fly Fishing
Fly fishing in Bristol, Tn is truly a one of a kind experience! Bristol is the Birthplace of Country Music and nothing goes better with country music than fly fishing! This picturesque location is home to some of the best fly fishing in the country, and is a popular destination for anglers from all over. It's home to the South Holston River, which is known for its staggering wild brown trout population of 8,500 fish per mile! Not to mention the many mountain streams you can find nestled in the Appalachian Mountains. If you're a new angler or you've been around for decades, Bristol has something for everyone! Below we will explore what makes Bristol, TN such an amazing place for anglers.
Where to Fish in Bristol, TN
If you're looking to fly fish in Bristol, TN, there are plenty of great places to do it. The South Holston River is a great place to start, and offers some of the best fly fishing in the area. There are also plenty of smaller streams and creeks that offer great fly fishing opportunities, so be sure to do your research before you head out.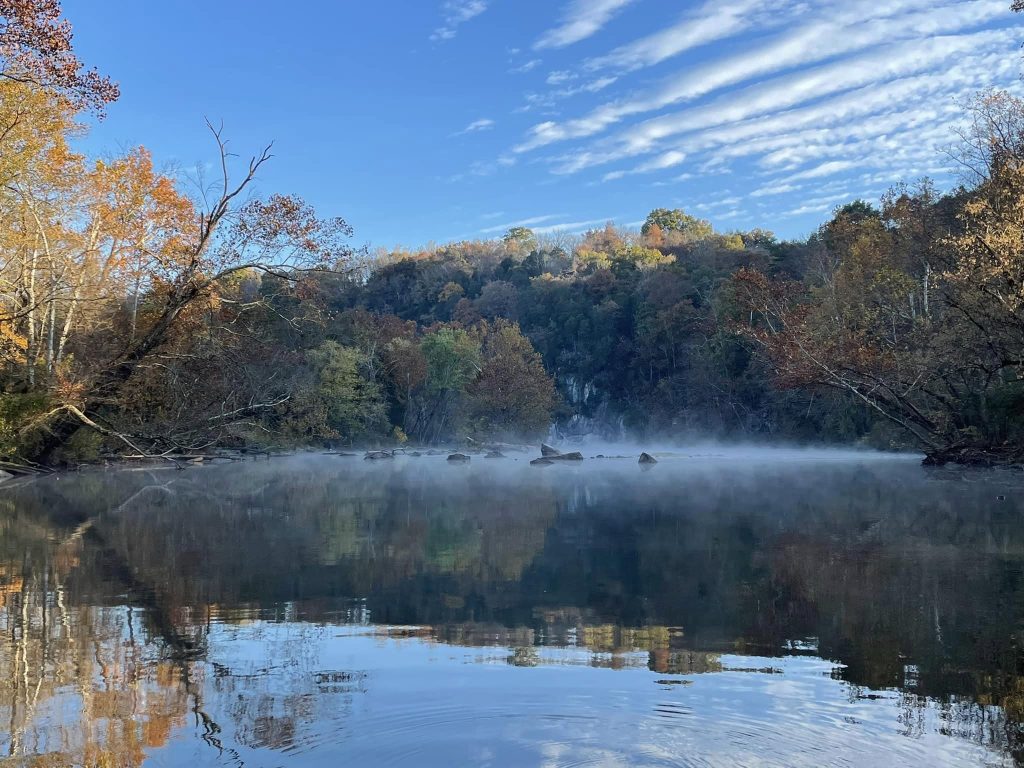 The South Holston is the primary fishing stream in Bristol. It's a blue ribbon stream and is a popular destination for anglers from around the country. The South Holston is known for its huge population of wild brown trout and offers anglers the opportunity to fly fish for trophy sized trout.
There are several areas along the SoHo that are great for fishing. Most of the land along the river is privately owned, but there are several access points open to the public. While we can't give you all of our secret fishing locations (we wouldn't be fishermen if we did), we can give you some good guidance for where you can get started!
Fly Fishing at the Weir Dam
The weir dam is a popular public fishing access point. This is also where the local guides will put in for a float trip down the river. Some of the biggest fish we've seen have been caught right out from the boat launch! The weir dam provides a healthy flow of water, even when the dam isn't generating. This of course makes it a great place for trout to pool up. Wading here is about waste deep when the generators off. But, take note of when the releases are scheduled, water can rise quickly and be dangerous for people caught in the middle.
Sand Barr Rd
This is one of our semi-secret spots, so we may be a bit vague in where it's at, but we'll give you enough clues that if you do a little research, it won't be hard to find. There's a little church right next to the river here and they have a small dirt parking lot below that anglers can park in. If it's Sunday, the church uses this as overflow parking, so be sure to be courteous and park out of the way. The river here flows through a deep channel with several rock ledges that the fish like to hide under. The fishing here is best done when they aren't generating as there are some deeper spots. This is a beautiful spot to spend the day, and we've never been disappointed while fishing here.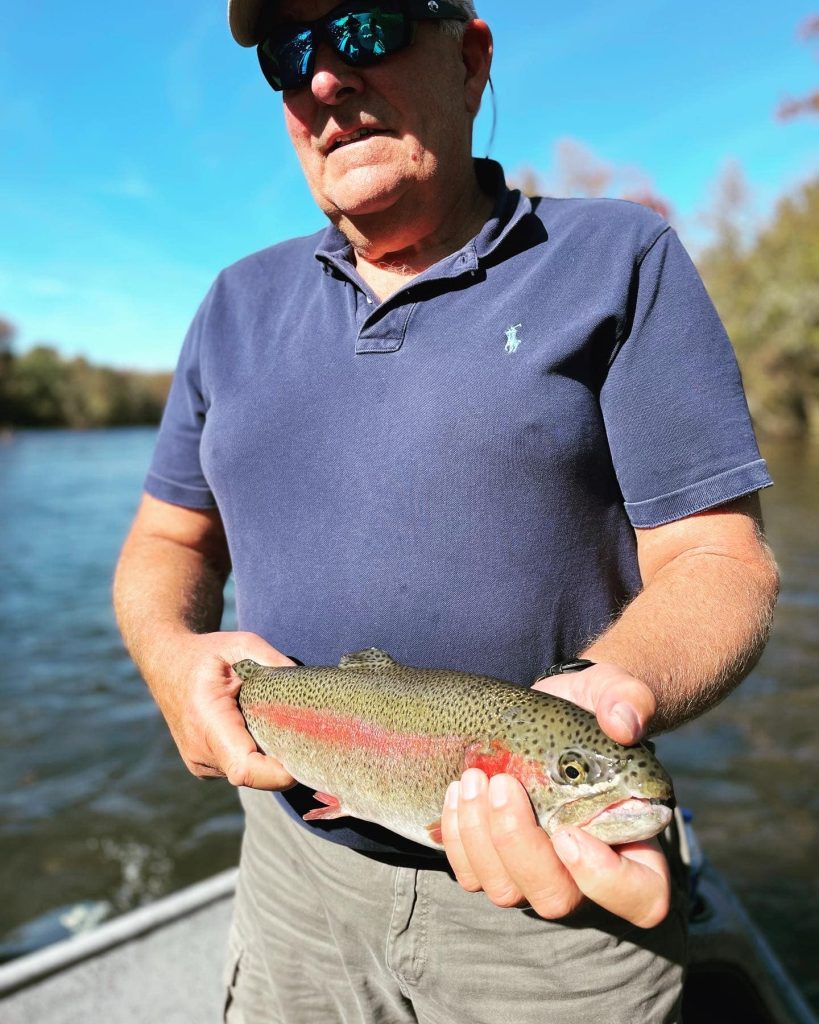 Big Springs Boat Ramp
The Big Springs boat ramp is a great place to park and wade. This is located on Big Springs Road, right up from Barretts River Lodge. If you're looking for a place to stay for a weekend and enjoy all that the river has to offer, the folks at Barretts have wonderful accommodations, complete with a dock right on the water. We've seen some monster trout lurking in this section and this stretch can be wade fished throughout when the water is off. Check out our lodging partnership with Barrets River Lodge
What You Need for Fly Fishing Here
If you're planning to fly fish in Bristol, TN, you'll need to come prepared to wade or you'll need to hire a guide to drift down the river with. While we highly suggest floating the river, wading is great here too. Over 75% of the river is wadable, making it the perfect place for the everyday angler. In this section, we'll explore some of the stuff you'll need to make your time fly fishing here well spent.
The SoHo is a tailwater river, and is notoriously cold, even in the summer. If you're fishing in the warmer months, a good pair of light pants under your waders with some light wool socks will suffice for keeping you warm. However, if you're a diehard angler and fish year round, you'll need to come with a few more base layers on to help keep you warm for a days wade. At any point in time, the weather can change here. Rain often comes out of nowhere, especially in the Spring and late Summer/early Fall. Be sure to have a rain jacket handy just in case. You won't regret it.
We typically fish 9′ 5 weights. It seems to be the perfect rod for the variety of fish that you'll be going after here. On average you can expect fish varying in size from 12-20 inches. Trout can get pretty big here, so be sure to come with a variety of leader and tippet sizes. Especially if you're going after some trophy size trout, which there are plenty of in this river. The record brown trout here was a whopping 42 inches and 21 pounds!
Water Conditions
Because the SoHo is a tailwater river, the flow is controlled by a dam. You will need to check the generation release schedule before venturing out for a day of wading. This schedule can change at any given time, however it is a rare occasion for this to happen. Needless to say, you should always be aware of changing water levels. There is nothing more dangerous than being caught in the middle of a river when the release wave starts coming down. Pay attention to your surroundings and always err on the side of safety.
The water quality here is typically really great. It's super clear and clean, which of course makes it great for spotting fish, but it also means they can spot you too! Tippet selection and presentation here is really important. All of our guides are well trained and equipped to teach you all you need to know in order to be successful here though.
Fly Selection
Now, for the most important part. What flies do you need! The aquatic insect population here is very strong and there are numerous hatches throughout the year. While there is no need to have a deep understanding of entomology, it doesn't hurt to educate yourself on this science. We've done our best to take the guesswork out of it for you though and created a South Holston hatch chart that is pretty darn accurate! If you use this chart, your chances for catching fish are certainly better!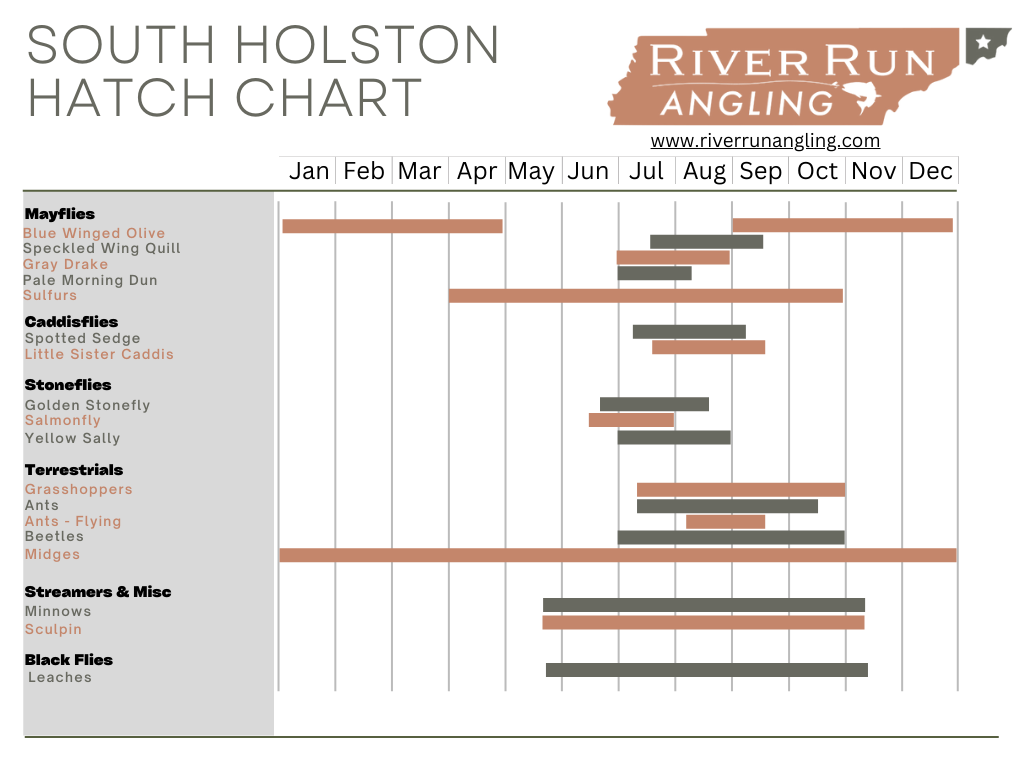 Why Fly Fishing in Bristol Is Great
When it comes to fly fishing, Bristol, TN is definitely a destination worth exploring. With its abundance of trout, as well as its beautiful scenery, Bristol offers anglers a one-of-a-kind fly fishing experience. And for those who are new to fly fishing, or for those who are looking to improve their skills, Bristol is the perfect place to learn.
With plenty of fly fishing guides available, Bristol is the perfect place to get started in fly fishing. These guides can teach you everything you need to know about fly fishing, from how to cast your fly rod, to how to identify different types of fish. They can also help you find the best spots to fish in Bristol, and offer tips on how to catch the biggest fish. This is our specialty and we love teaching people to fish as much as we love fishing ourselves. We provide all inclusive provisions on our trips and are happy to answer any questions you might have about what fishing here is like!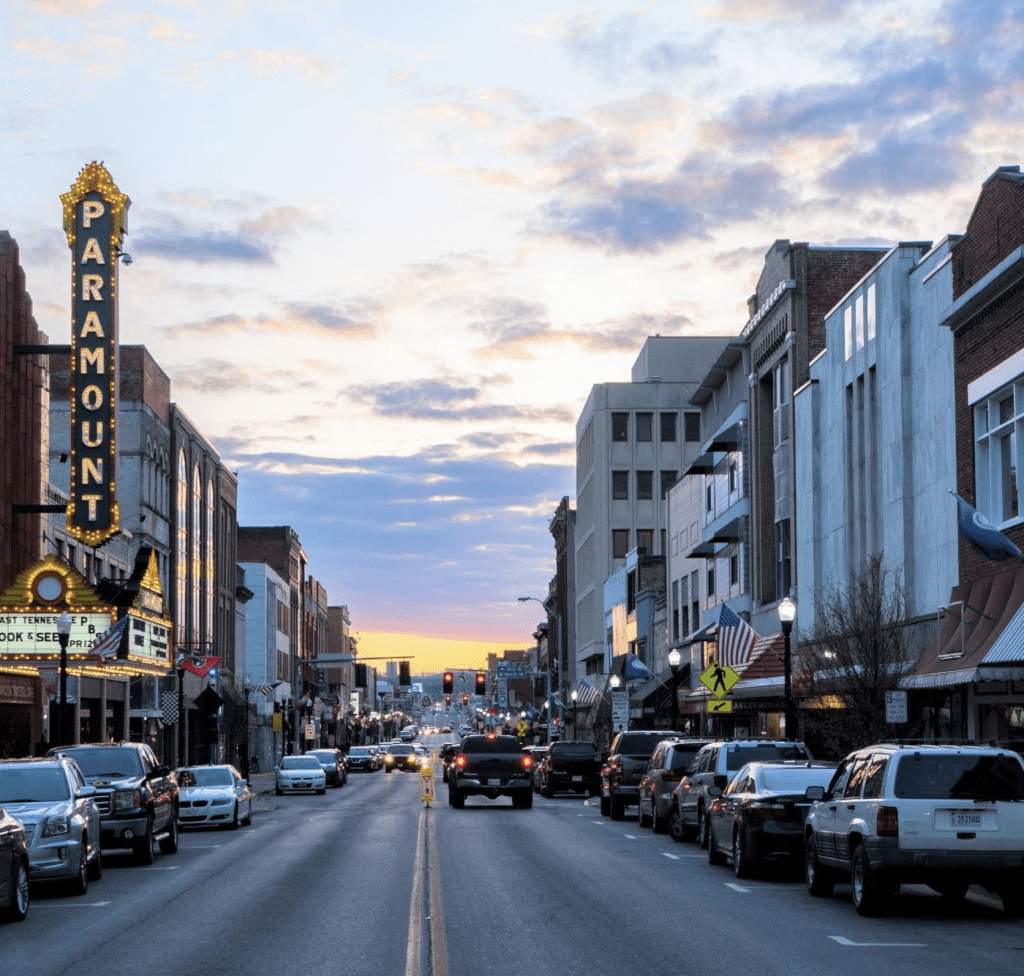 Exploring the City
Fishing here is great because there is an abundance of things to do when you get off the river. Whether you want to stay in your lodge or go explore the downtown areas, there's something for you here. For those who like to explore the more urban aspects, Downton Bristol has amazing sites to see and places to eat and explore!
One of the unique things about downtown Bristol is State Street. Just like its name implies, this street acts as the border between Tennessee and Virginia. One half of the street is on Virginia and the other is Tennessee! As you could imagine, this is often a place for people to take pictures of them being in 2 states at the same time.
Photo Credit: Discover Bristol
Eateries
They have some amazing pastries, desserts and coffee! It's an awesome place to just hang out and sip some coffee while you're planning out your time in downtown.
Stateline has an awesome atmosphere and they offer BBQ, burgers and other pub grub. They often have live music being played and it's a great place to enjoy a burger and a beer after being on the water all day.
Southern Craft is one of our favorite places to eat in Bristol! They have some amazing craft beer options and their burnt ends are out of this world! You will get far more than you pay for here!
Places to Explore
If you like the performing arts, then you should definitely check out the Paramount! They often have performances and live music that goes on here. It has a rich history and many Grand Ole Opry stars have gotten their start on this stage. Afterall, Bristol isn't called the birthplace of country music for no reason!
If you're into history and country music, you have to check out this museum. It will tell of you of the rich, cultural heritage that we have in country music. It's a great way to spend some time off the water and exploring some of the history and culture of our city.
Places to Stay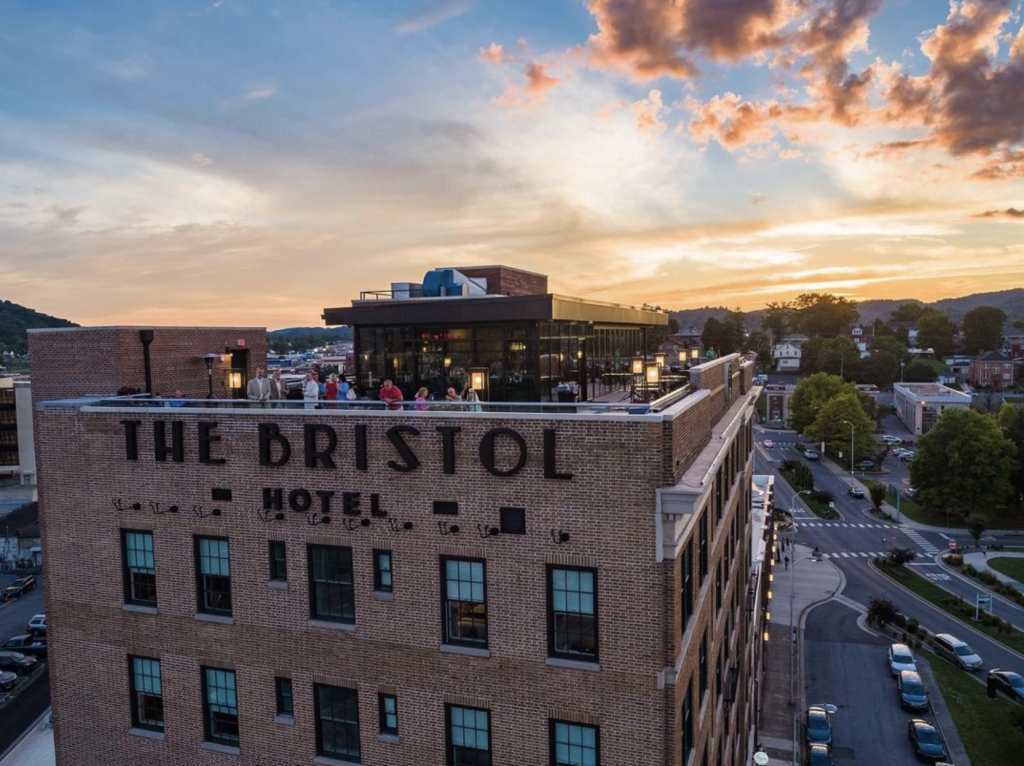 The Bristol Hotel is certainly a place you MUST visit while you're here. Whether you're getting a room or simply enjoying a drink at their rooftop bar, you have to come here. The views of the mountains and the city are simply breathtaking!
If you're looking for a charming rental as a base camp for your Blue Ridge mountain vacation, their wonderful properties offer world-class views and home-grown comfort!
(Photo Credit: The Bristol Hotel)
Conclusion
We hope this article has helped you be able to learn a bit more about our city, all of the fly fishing opportunities you have and how you can spend your time when you get done fishing! We love our city and are extremely proud of all that it has to offer.
So, stop reading and start planning your visit here! Be sure to give us a call to book your next trip fly fishing in East Tennessee!