Fly Fishing the Watauga River: The Ultimate Guide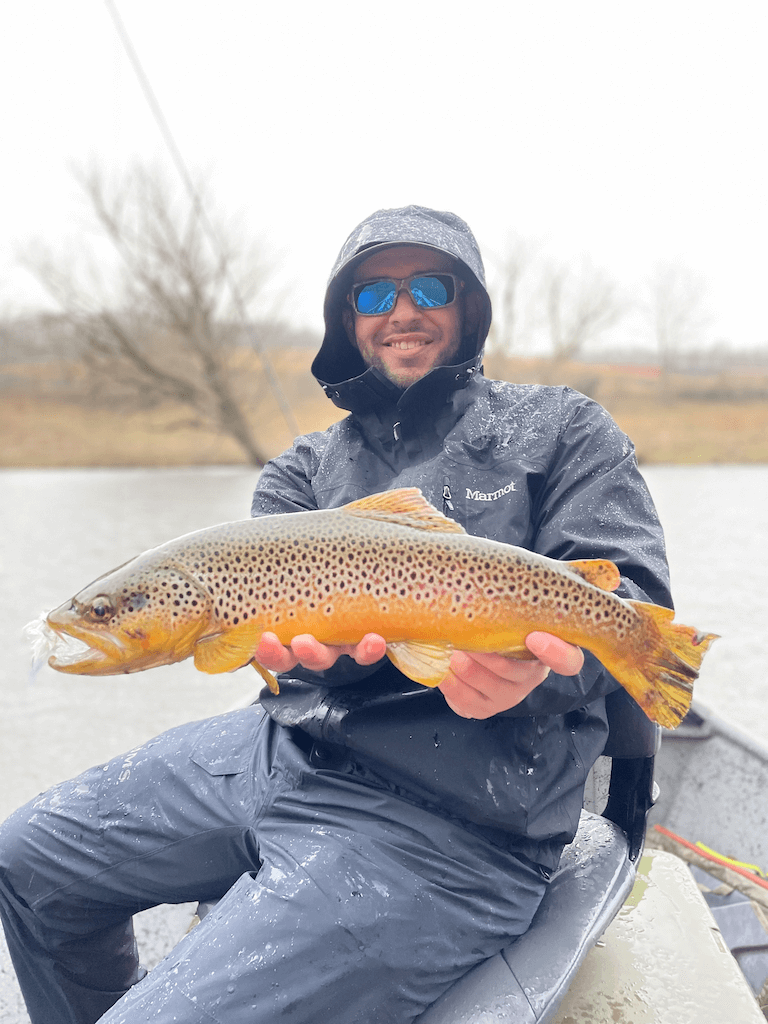 Introduction to the Watauga River: Location and Basic Characteristics
The Watauga River originates in the mountains of North Carolina, winding its way into eastern Tennessee. It's a freestone-tailwater hybrid, combining the best of both worlds for fly fishermen. The river stretches approximately 60 miles and varies in width and depth, making it perfect for both wading and float trips. The water is generally clear, thanks to its mountainous origin, offering excellent visibility for sight fishing.
Importance for Fly Fishing: Species Available
When it comes to fly fishing, the Watauga River is a gem. The primary target species here is trout—specifically, brown trout and rainbow trout. There's also a good number of brook trout in the upper stretches near the North Carolina border. The tailwater section, below the Wilbur Dam, offers stable water temperatures and year-round fishing opportunities. Both nymphs and dry flies are effective, but the river also accommodates streamer fishing, especially during the early and late seasons. The river's varied features, from fast runs to deep pools, provide a diversity of habitats for fish and ample opportunities for different types of fly presentation. This makes the Watauga a playground for anglers keen on honing their casting and mending skills.
Regulations and Permits
Before you grab your fly rod and head out, it's crucial to familiarize yourself with the local regulations. A valid Tennessee or North Carolina fishing license is required, depending on which part of the river you'll be fishing. Additionally, some sections are subject to special regulations like catch and release only or slot limits. Local fly shops and the Tennessee Wildlife Resources Agency website are excellent resources for the most current information.
Best Spots to Wade Fish
Elizabethton Area
Access Points
The Elizabethton area is a solid choice for those looking to wade fish on the Watauga River. Access is relatively straightforward, with several public access spots available along Riverside Park and Lovers Lane. Look for gravel pull-offs or small parking areas—these often indicate good entry points to the river.

Water Depth and Flow
In this section, you'll find a variety of water types suitable for wading. The water is generally knee to waist-deep with some shallower riffles and deeper pockets. The flow is moderate, making it easier for you to mend your line and get that perfect fly presentation. Whether you're nymphing or casting dry flies, the Elizabethton area offers plenty of room to work your magic.
Stoney Creek Confluence
Access Points
The Stoney Creek Confluence is another prime location for wade fishing. Access is available off Highway 91, near the Stoney Creek Volunteer Fire Department. You'll see a couple of dirt paths leading down to the river, but do be cautious as it can get muddy after rain.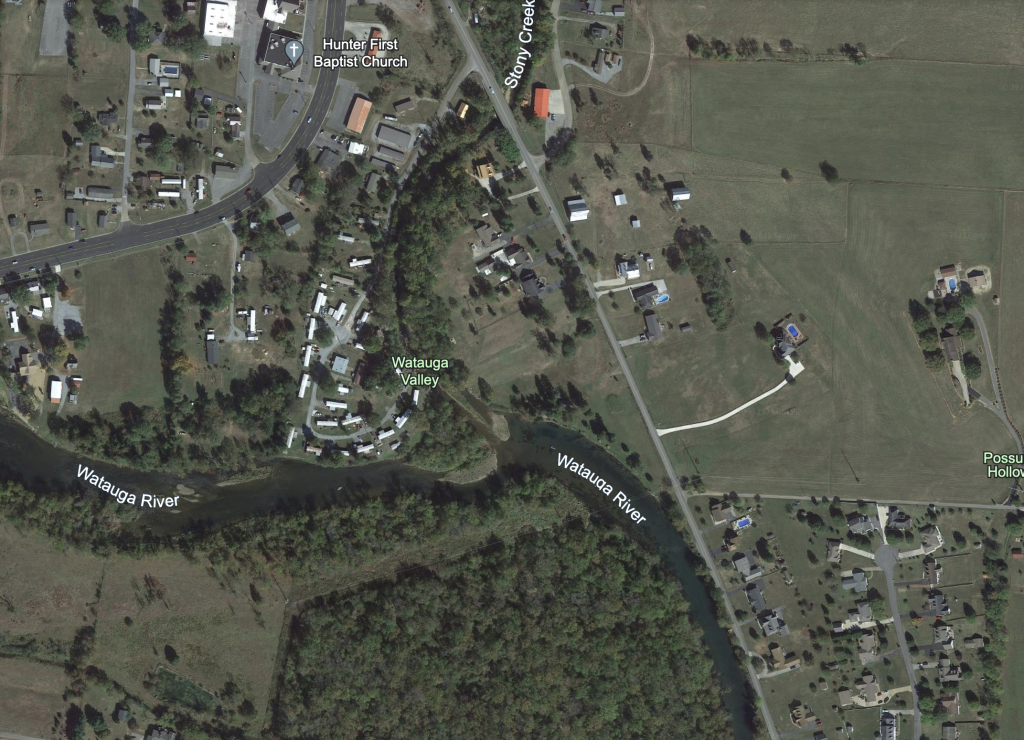 Water Depth and Flow
Here, the water tends to be a bit faster and deeper, especially near the confluence itself. You'll find water depths ranging from waist to chest deep. The fast flow offers a good challenge for anglers who are looking to practice their line mending and nymphing techniques. Keep an eye out for cut banks and fallen logs; they're prime holding spots for trout.
Sycamore Shoals
Access Points
Sycamore Shoals offers a historical setting for your fishing adventures. Access is convenient, thanks to Sycamore Shoals State Park. Parking is ample, and trails lead you directly to the river.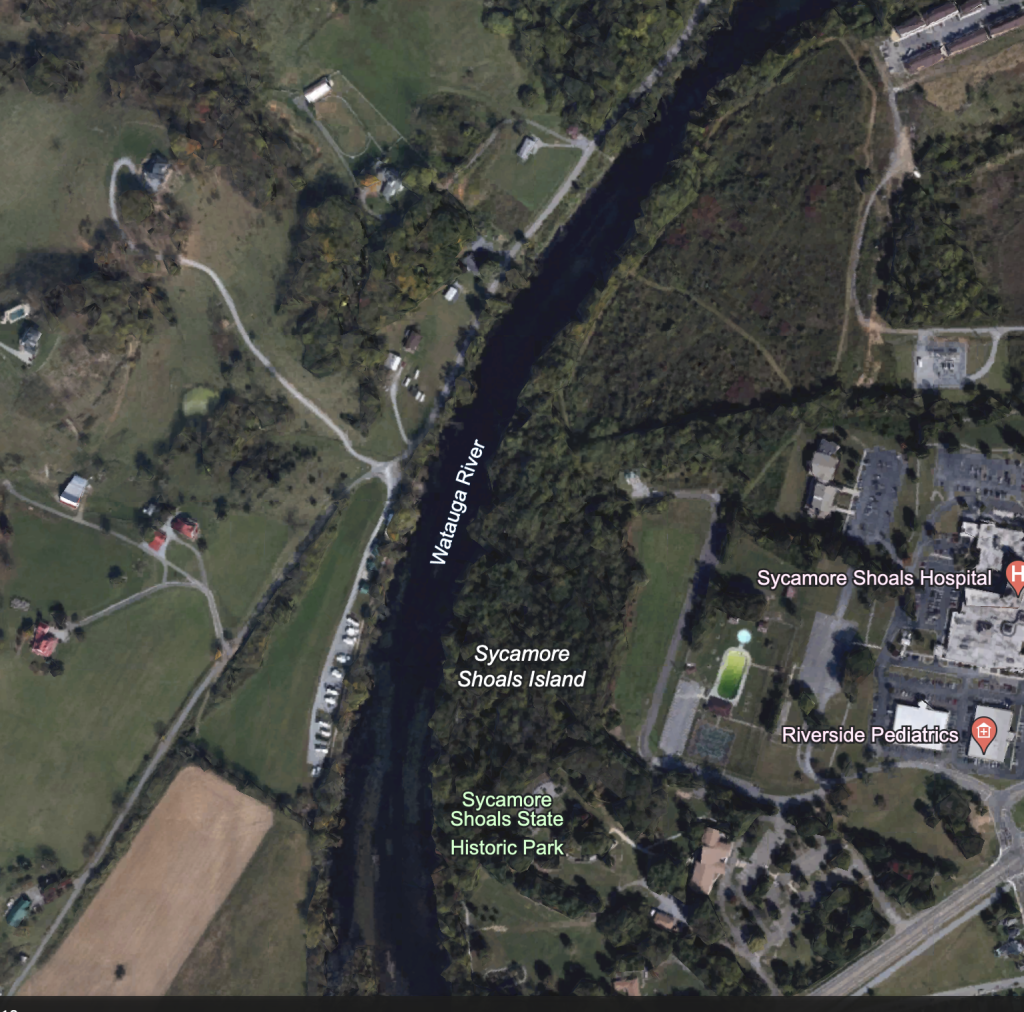 Water Depth and Flow
This area is characterized by shallower water with plenty of riffles and runs. Depths are generally knee to thigh-deep, making it easier to wade across. The flow is moderate, ideal for those who prefer dry fly fishing or want to hone their casting skills without dealing with strong currents.
In these spots, you've got the chance to match wits with some feisty trout while enjoying the natural beauty of the Watauga River. Each location offers something a bit different, making it worth your while to try them all.
Best Sections to Float
Wilbur Dam to Hunter Bridge
Launch and Take-out Points
Starting your float trip at Wilbur Dam provides a controlled environment, thanks to the tailwater. You can launch your boat or raft just below the dam, where there's a designated boat ramp. For your take-out point, Hunter Bridge is your go-to. It's got a good area for pulling out and is easily accessible by road.
Notable Features: Rapids, Pools
This stretch offers a balanced mix of riffles, runs, and deeper pools. You'll find some Class I and II rapids to add a little excitement to the journey. These features give you a great opportunity to try various fly presentations, from nymphing in the runs to swinging streamers in the deeper pools.
Hunter Bridge to Lovers Lane
Launch and Take-out Points
For this section, you can launch from Hunter Bridge, where you ended your previous float, and take out at bridge at Lovers Lane. Both locations have convenient ramps for an easy start and finish.
Notable Features: Rapids, Pools
This segment has fewer rapids but more long, deep pools, ideal for throwing streamers. Don't ignore the eddies and seams between fast and slow water; they often hold good fish. The slower flow allows for more precise dry fly presentations, especially during a hatch.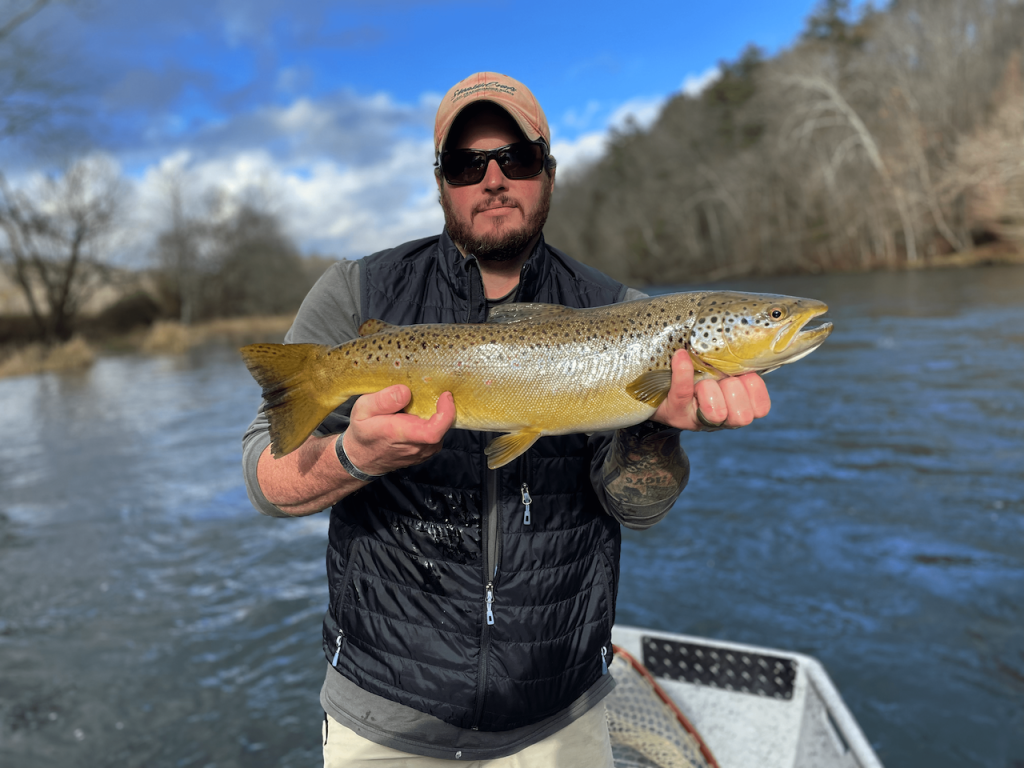 The Trophy Section: Blevins Rd to Persinger Bridge
If you've got your sights set on larger trout, don't skip the section between Blevins Rd and Persinger Bridge. This area is specially managed to promote the growth of trophy-sized trout, making it a prime location for anglers looking for a challenge
Launch and Take-out Points
Access is straightforward at both Blevins Rd and Persinger Bridge, where you'll find adequate parking and easy routes to the water. Keep in mind that this is a popular stretch, especially on weekends, so if you prefer a more solitary experience, aim for weekday visits.
Notable Features: Rapids, Pools
This stretch of river is a playground for fly fishermen, featuring a mix of fast currents, deep pools, and even some slower, meandering sections. Whether you like to nymph the depths or test your skills on more technical water, this trophy section has something for every angler.
In a nutshell, if you're aiming for a trophy catch, this section of the Watauga River is your arena. It's a challenging but rewarding stretch that offers a variety of water features to keep any fly fisherman engaged.
TVA Weir Dam to Boone Lake
Launch and Take-out Points
Starting at TVA Weir Dam, you can take out at Boone Lake. Both locations have good access and parking, making logistics straightforward.
Notable Features: Rapids, Pools
This section offers a lot of deep water, giving the trout plenty of places to hide. It's mostly Class I water with the occasional Class II rapid. Long, languid pools are broken up by short, quicker runs, providing a variety of fishing opportunities. Casting and mending need to be on point here due to the varied water speeds.
In summary, each section offers unique opportunities and challenges for fly fishermen. Whether you're seeking the thrill of navigating rapids or prefer the calm of a deep pool teeming with trout, the Watauga River has a float trip that's just right for you. Make sure to map out your journey beforehand, and as always, pay attention to water conditions and regulations.
Best Flies to Use
Nymph Patterns
Pheasant Tail Nymph
The Pheasant Tail Nymph is a go-to for many fly fishermen on the Watauga River. It effectively mimics mayfly nymphs, which are abundant in these waters. This fly sinks well and presents a lifelike profile, making it ideal for fishing deeper runs and pools.
Zebra Midge
Midges fish here all year long. Take an assortment of colors, black/white, tan/black or purple/silver for the best bet. Color preference will change daily, but midges are always a tasty treat for browns and rainbows looking to eat.
Hare's Ear Nymph
The Hare's Ear is another classic that works particularly well in this river. Its buggy appearance and versatile design make it suitable for mimicking a variety of aquatic insects. It's a great choice when the trout aren't keyed in on any specific forage.
Importance of Size and Color Selection
Don't underestimate the impact of choosing the right size and color for your nymphs. Pay attention to what's hatching and adjust your fly size accordingly. In clearer water, a smaller and more natural-looking nymph often does the trick. Similarly, a brighter or flashier nymph can provoke strikes in murkier conditions.
Dry Flies
Adams
The Adams is a versatile dry fly that works well on the Watauga. It's effective at imitating a wide range of mayflies, making it a strong choice during a hatch. You can fish it confidently over riffles or use it to target rising trout in slower pools.
Sulphurs
During late spring and some throughout the fall, sulfurs are the way to go! The South Holston River is known for it's prolific sulfur hatch, but the Watauga sees some of this too. We often fish a sulfur up to and drop a spanish bullet quill nymph below, and it's a deadly combination!
BWO
Blue Wing Olives are another great dry fly for the many areas that we have here. The tailwaters in East Tennessee tend to produce BWO's pretty consistently. If you want to find some success as an angler, be sure to have some in your fly box.
Elk Hair Caddis
This dry fly is excellent for imitating caddisflies, which are another primary food source for Watauga River trout. Its buoyancy and realistic silhouette make it a reliable option, especially during evening hatches.
Importance of Matching the Hatch
The key to successful dry fly fishing is often matching the hatch. Keep an eye on the water and even the air to see what insects are around. Having a variety of sizes and colors in your fly box will help you adapt to what the trout are feeding on.
Streamers
Woolly Bugger
The Woolly Bugger is a versatile streamer that can imitate everything from small baitfish to aquatic insects. It's effective in a variety of water conditions and depths. Slow retrieves often work best, especially in deeper pools.
Zonker
The Zonker is great for mimicking larger baitfish. Its flashy appearance can attract bigger trout looking for a hearty meal.
Tips for Presentation
For streamers, consider varying your retrieve speed and adding occasional twitches to make the fly look more lifelike. Casting across the current and letting the streamer swing downstream can be particularly effective.
In the end, the flies you choose are important, but it's your presentation that will often make or break your day. Keep these tips and fly options in mind, and you'll be well on your way to a successful day on the Watauga River.
Best Times of Year to Fish
Spring
Advantages: Hatch Season, Water Clarity
Spring is arguably one of the best times to fly fish the Watauga River. This is hatch season, where a myriad of aquatic insects like mayflies and caddisflies come to life. Fish are actively feeding after the winter, making them more willing to take both nymphs and dry flies. Water clarity is generally good in spring, making it easier for sight fishing and precise fly presentations.
Summer
Advantages: Warmer Water, Active Fish
As temperatures rise, so does the activity level of the trout. The warmer water makes fish more aggressive and willing to chase down a streamer or rise to a dry fly. While the heat can sometimes make midday fishing tough, early mornings and late evenings provide excellent opportunities. Mayfly and stonefly hatches continue into the early summer, adding to your dry fly options.
Fall
Advantages: Less Fishing Pressure, Cooler Temperatures
Come autumn, you'll find fewer anglers on the water, giving you more room to work your favorite spots. Cooler temperatures often result in more active fish throughout the day. Fall also brings a beautiful backdrop of changing foliage to enhance your fishing experience. This is a great time to throw streamers, as larger trout are looking to bulk up before winter.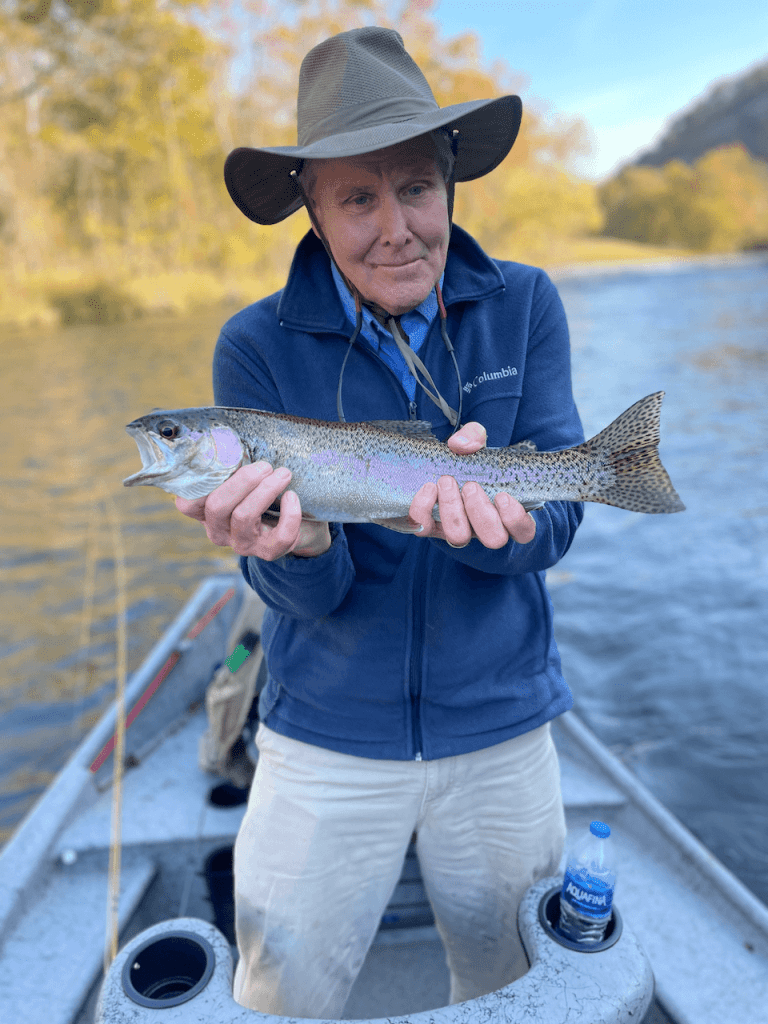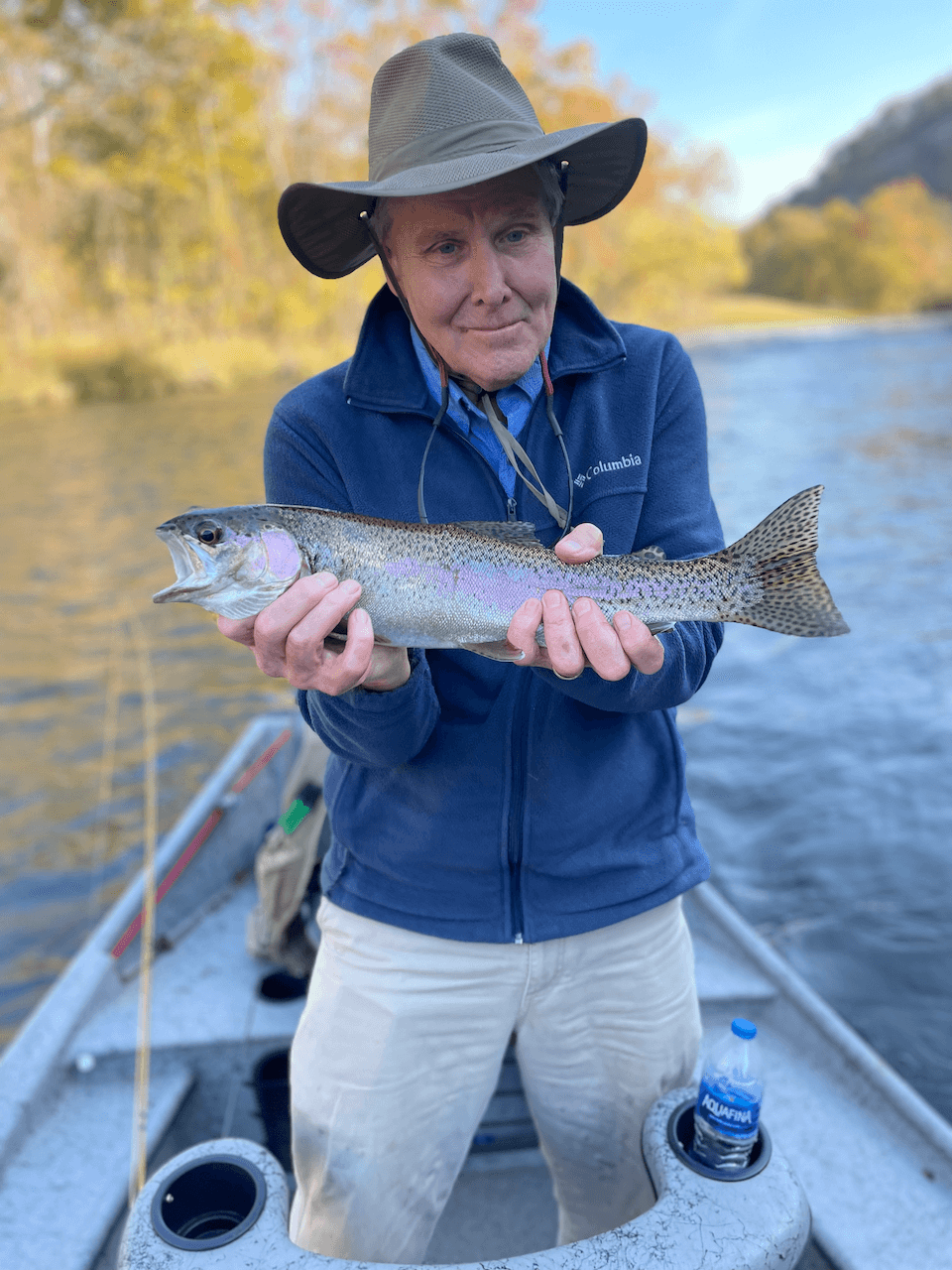 Winter
Advantages: Less Crowded, Fish Still Active
Don't overlook the winter months. The river is far less crowded, giving you plenty of solitude and space. While you'll need to bundle up, the trout are still there and still feeding. You'll likely lean more on nymphs, focusing on deeper pools where fish hold in colder temperatures. But don't rule out midge hatches on warmer days, as trout will still rise for a well-presented dry fly.
Choosing when to fish the Watauga River depends on a variety of factors including your preferred fishing style, tolerance for crowds, and comfort with varying weather conditions. Each season offers its unique set of advantages, but the constant across all seasons is the opportunity for some quality time on the water. So, pick your preferred time and head out; the Watauga River is waiting for you.


That's a Wrap
The Watauga River offers a diverse range of opportunities for fly fishermen, making it a destination worth exploring any time of the year. Whether you prefer wading or floating, there are spots that will meet your needs. A well-curated fly box should include a mix of nymphs, dry flies, and streamers to match the diverse habitats and hatches you'll encounter. Timing your trips to coincide with the advantages of each season—be it the rich hatches of spring, the active fish of summer, the solitude of fall, or the quiet intensity of winter—can elevate your experience on this remarkable river.
Additional Resources and Maps
For more in-depth information, consider checking out local fly shops, where you can find river maps, hatch charts, and up-to-date fishing reports. There are also plenty of online forums and social media groups dedicated to fly fishing the Watauga River. These platforms can provide real-time updates, as well as the chance to connect with other anglers who share your passion. Many guide services offer both wade and float trips, giving you the chance to learn from locals who know the river best.
Whether you're a seasoned angler or new to fly fishing, the Watauga River offers something for everyone. It's a fishery that will both challenge and reward you, making each trip a unique adventure.