Fly Fishing in East Tennessee | The Ultimate Guide
Fly fishing in east Tennessee is among the best in the nation. With its crystal-clear streams, ample populations of fish and experienced guides, the area provides some of the best fishing opportunities in the country. Whether you're a beginner or a seasoned pro, you're sure to find a great spot to wet your line!
How is Fly Fishing in East Tennessee Different
The geography of East Tennessee creates a lot of unique opportunities for fly fishing. The region is home to countless cool mountain streams, as well as a variety of larger tailwater rivers. This variety means that there's a spot for everyone, regardless of your experience or expertise. We'll explore some locations later for those tailwaters and mountain streams, but that's why fishing here is so different and so great! There is something here for everyone and exploring these places never gets old! What's more, the streams in East Tennessee are typically very clear, which makes it easy to sight fish for those trout.
The first thing you'll notice about East Tennessee fly fishing is the scenery. This part of the country is absolutely beautiful, and you'll have plenty of chances to take in the view while you're waiting for a fish to bite. The mountains and rivers in East Tennessee are the perfect backdrop for a day of fly fishing.
Another great thing about East Tennessee fly fishing is the variety of fish you can catch. From trout to bass, there's something for everyone in these waters. And if you're lucky, you might even hook into a record-breaking fish. The biggest brown ever caught on the South Holston River came in at 21 pounds and 42 inches! Imagine hooking into that hog on a size 20 nymph!
Finally, one of the best things about fly fishing in East Tennessee is the solitude. If you like fishing in peace and quiet, then these rivers are for you! These aren't areas that are overrun with tourists, so you can enjoy some peace and quiet while you're casting your line. If you're looking for a place to get away from it all and relax, East Tennessee is the perfect destination.
Where to go fly fishing in East Tennessee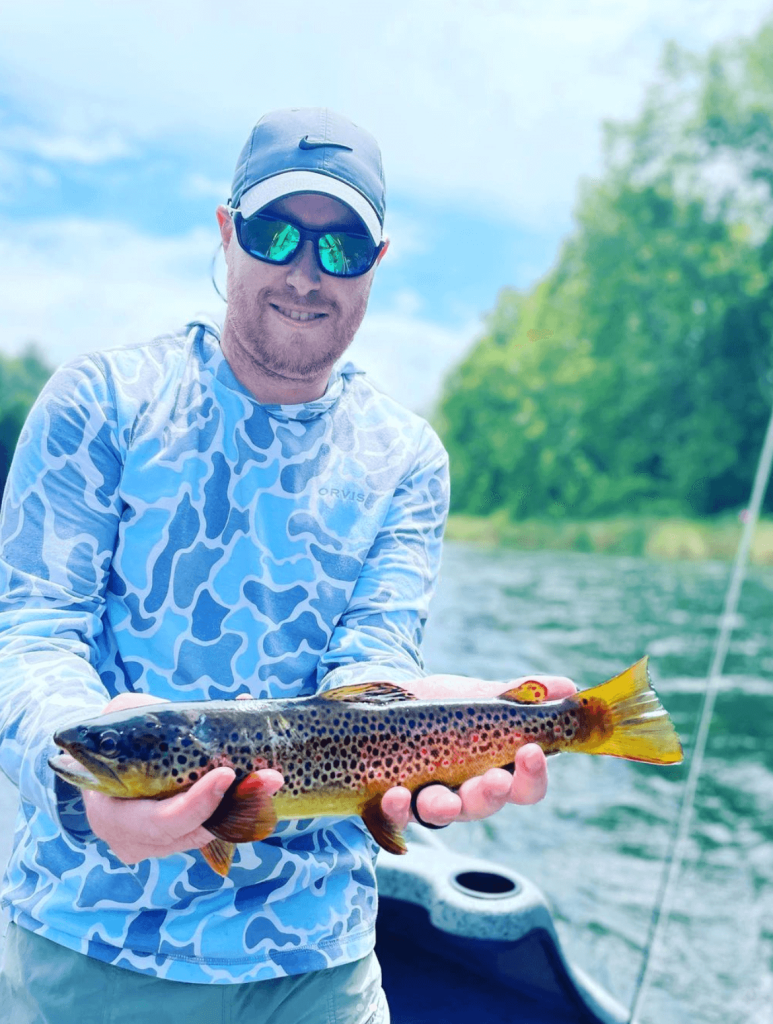 The South Holston and Watauga Rivers are among the most popular fly fishing destinations in East Tennessee. The South Holston flows out of South Holston lake. The Watauga finds its headwaters in the heart of the Appalachian Mountains near Linville Gap. Both offer great fishing opportunities for all skill levels. These 2 rivers even made it into an article that Guide Recommended wrote; 31 Best Places To Fly Fish In The USA.
The South Holston is known for its large rainbow and brown trout, as well as its excellent sulfur hatches. The South Holston is most commonly known for its healthy populations of wild brown trout and boast a population of 8,500 wild brown trout per mile! While the most popular style of fishing on the South Holston is from a drift boat, this river is perfect for wading too! In fact, about 75% of this river is accessible to the fisherman wanting to wade for his trout. If you want to drift it with us, book one of our South Holston River trips today!
The Watauga River, moreover the tailwater section, runs 17 miles from Wilbur Dam to where it terminates in Boone Lake. It's no slouch of a river though! Coming in around 6000 fish per mile, it's a very close second to the South Holston in terms of fishability! Approximately 85% of the trout in this river are wild, with the other 15% being stocked by the TWRA throughout the year and in various locations.
Mountain Streams
We can't forget about those mountain streams and those small native trout! Our favorite mountain streams are: Beaver Dam Creek, Stony Creek and the upper section of the Doe River in Roan Mountain. On an average day you can expect to catch plenty of wild rainbow, brown and brook trout here. These streams are best fished in the fall. Catch them after a good rain for your best shot at catching those big behemoth browns. We've always had the best luck with stimulators and a dropped copper john off it. It's a lethal combination in these waters!
All of these waters offer great fishing throughout the year. But, the best time to fish here tends to be from early spring to late fall. If you're looking for a challenging and rewarding fly fishing experience, then the rivers and streams in East Tennessee are definitely worth checking out!
Tips for fly fishing in East Tennessee waterways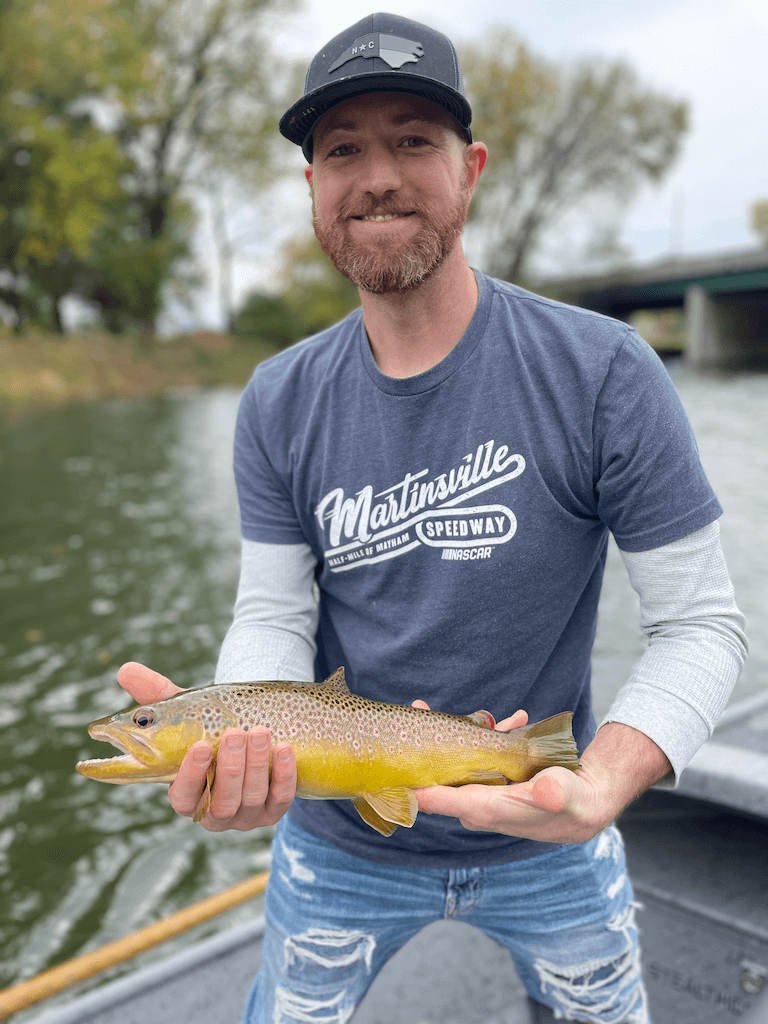 When fly fishing in the rivers and streams of East Tennessee, it's important to remember a few things that will help you be prepared for the conditions and to catch a few more fish. Here are a few tips to help you out:
1. Dress appropriately. The weather in East Tennessee can change quickly, so make sure you dress in layers and bring a rain jacket, even if the forecast doesn't call for rain.
2. Use the right flies. There's no one "right" fly for every situation, but using flies that match the hatch will up your chances of catching fish. Talk to your guide or local tackle shop about what flies to use in the area you'll be fishing. We found this video from Drifthook Fly Fishing that really helps to understand the life cycles of different insects we're trying to emulate when matching the hatch!
3. Pay attention to the water levels, especially in the tailwater sections. These rivers are dam controlled and can rise suddenly at any given time without notice. Be sure to check the TVA website for generation schedules and details before you head out for the day.
4. Use a good tippet material. Leaders and tippet material can make a big difference when it comes to landing fish. Make sure you're using a material that is strong enough to handle big fish.
5. Be patient! Fly fishing can be slow and methodical, so be prepared to sit tight and wait for a bite.
Conclusion
Here in East Tennessee, we are known for our excellent fly fishing opportunities that have plenty of rivers and streams that are teeming with fish. Whether you're a beginner or a seasoned pro, you're sure to find a great spot to wet your line! In this blog post, we've highlighted just a few of the best waterways in East Tennessee for fly fishing. We've also shared some tips on how to be prepared for your trip and what flies to use when targeting trout in these waters. So if you're looking for an enjoyable and challenging fly fishing experience, be sure to check out the rivers and streams in East Tennessee!